An open-plan design with multiple ventilation points, the Zempire Evo range is ideal for family camping this summer.
Built to last with SeroLink beam technology and tough 150D fly fabric.
With their small pack size, the Zempire Evo range offers a fantastic combination of flexibility and connectivity.
Zempire EV TXL V2 Tent
The Zempire Evo TXL V2 Tent has a spacious full head-height living area, large front awning and versatile Multi-Room bedroom system. Sleeping 6 (comfort) and 8 (with the optional inner) it is the perfect family tent to get away and relax at the campsite.
Zempire EV TL V2 Tent
The Zempire Evo TL V2 Tent sleeps 4 (comfort) and 5 (maximum) but with the same fantastic spec as the TXL.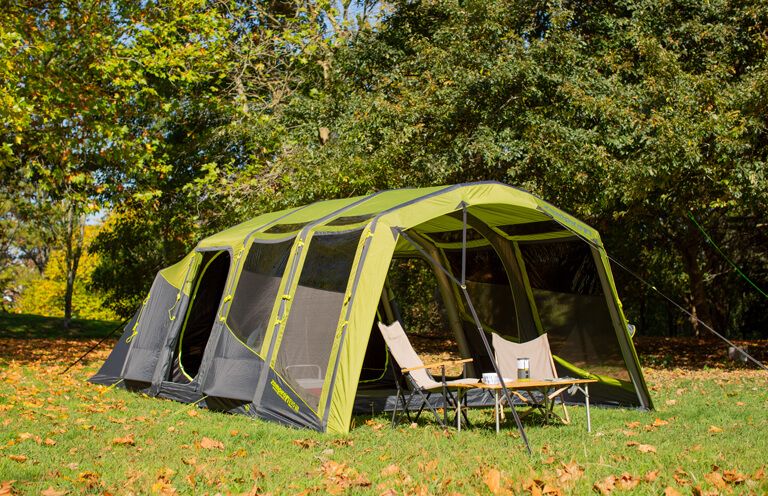 Zempire EV TM V2 Tent
A new look for a mid range tent, the Zempire Evo TM V2 Tent is the perfect tent for couples or small families sleeping 3 (comfort) and 4 (maximum).
The Zempire Evo series offers loads of innovative features to make your camping experience better than ever.
The light-diffusing bedroom fabric means uninterrupted sleep and the low and high ventilation helps reduce condensation and keep the tent at a more comfortable temperature. This range of tents has everything you need for any adventure.
The inflatable airframe makes erecting these tents easier than ever. The Pro Series Pump is included in the bag.
The angled beam construction offers improved wind stability and headspace throughout the tent giving you peace of mind in all weathers. The material is highly waterproof as well as being treated with a UV blocker.
Improve your tent with these optional extras:
Zempire is a New Zealand camping empire built by husband and wife team Richard and Sophie Knauf. From small beginnings, a dedication to smart design has seen this Kiwi company build a global community of devoted fans.
Strength and durability are essentials for any great outdoors product – but it's the dedication to design that makes Zempire something special. All Zempire products are meticulously constructed for ease of use, packability, and extra comfort. Every detail is considered. What's more, they look great and are fun to use.