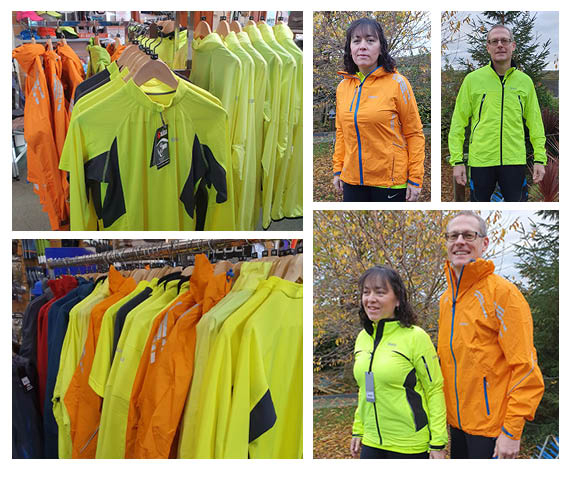 As we head into the autumn months, good waterproof clothing for exercising outdoors is important.
If you regularly exercise outside then there will be plenty of opportunities for you to train in the rain – most races aren't cancelled because of poor weather! 
Training in wet weather builds mental toughness and we can help to make sure you're prepared whether you're running, cycling or just out and about in the rain.
Our full range of waterproof clothing and products include:
• Waterproof hats, socks and gloves
• Waterproof hi viz jackets
• Hi viz layers
• Running socks
• Phone belts and armbands
As runners and cyclists ourselves, we use some of our waterproof clothing so we thought we'd share a few top tips.
Get ahead with a hat…
If it's very cold and wet, then a beanie style hat is a good option. The stylish Dexshell beanie hats are both waterproof and windproof, guaranteed to keep you protected from all weather. 
Team it with a head torch for running after dark and it could save you from tripping over a dodgy kerb and help you be seen by traffic. We have a wide range from market leaders Petzl, Whitby, Camelbak and KombatUK.
A brim can be a good friend during a rainy run. It will keep the rain off your face so you can see, even in a downpour. The SPIbeams LED Visor will keep the rain off your face and illuminate the path too!
A jacket makes a great training partner…
Hardy runners and cyclists need a jacket that is lightweight and waterproof, designed with the active sport-user in mind. We stock a range of Mens and Ladies jackets from Keela. The Men's Saxon Jacket and the Ladies Storm jackets are made from Flylite Aqua fabric, ultralight and capable of withstanding the heaviest of downpours. It is extremely breathable, quick drying and has a hood that can fit over a helmet as well as a scooped back to avoid those pesky drips when leaning over on a bike. 
The orange version features additional reflective patches to ensure high visibility.
Dry feet are happy feet…
Try to avoid stepping in puddles as much as you can. Your running shoes and feet will get wet from the rain, but they'll get absolutely soaked if you step in a big puddle. Waterproof socks are a good idea – investing in a pair of Dexshell waterproof socks will help you go the extra mile
Top Tip: Store electronics in a waterproof carrier. The Ortlieb safe-it waterproof case offers lightweight special protection for your smart phone when you take it along on a ride or an adventure.
Exercising in the rain will make you feel alive! As you slosh through the puddles and the rain is hitting your face, you're building mental toughness and realising that you can handle any challenge that comes your way.