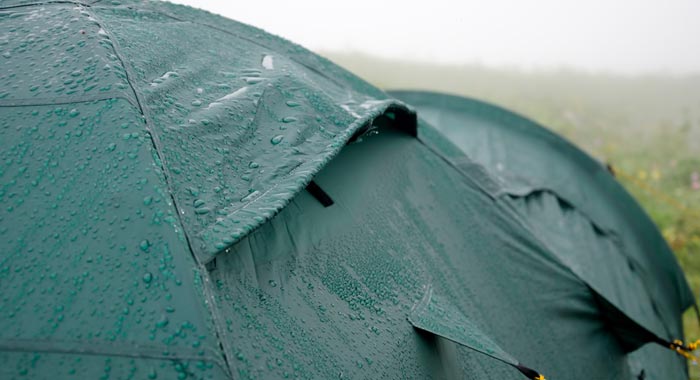 A camping holiday is a fantastic escape from the stresses and strains of real life. Hanging out together with lots of fresh air and fun!
The reality can be a little bit different. Make sure that rain doesn't stop play with our top ideas for wet-weather camping.
1. Invest in proper rain gear
Where would we all be without wellies and waterproofs? Rather than take shower-proof jackets on your trip invest in proper waterproof gear, including trousers, for the whole family. Tucked into boots they'll keep kids warm and completely dry, opening up a world of outdoor fun in the downpour.
2. Book a campsite with a good laundry facilities
No one wants to put on damp clothes or soggy footwear. You'll have a bunch of unhappy campers on your hands if they're pulling on wet gear. Drying out clothing can be a challenge for wet weather campers. Make sure you do your research and book a campsite with decent laundry facilities and covered drying areas.
3. Pack plenty of newspaper to help dry footwear
Footwear always dries out best when toes are stuffed with newspapers. Help boots along by having an old newspaper or two stashed in the car. Be sure to pack extra socks too. There's nothing like cold, wet feet to put everyone in a bad mood.
Rainy weather can bring dark skies and poor light, even in the middle of the day. Pack extra batteries for torches which may get lots of use.
5. Make sure you don't get cabin fever
Whether you're staying in a caravan, mobile home, campervan or tent, rainy weather can bring cabin fever. You may need to hide out temporarily, but if the rain looks set to be a long-term prospect you really will need to get everyone on a trip outdoors. If you've packed the right gear you can set off exploring knowing everyone will remain relatively dry.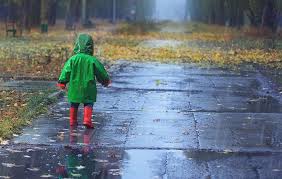 6.Have a Plan B for barbecuing
Take a stash of non-perishable food that can tide you over if barbecuing is a no-no. Pack plenty of snacks too which can re-energise water-weary children. If bad weather prevents any outdoor cooking at all make sure you a bit of an emergency budget set aside for a dash to the local chippy!
7. Make fun of the rain
A wet weather walk can be great fun, so long as you don't make it too long for younger members of the family. Forests, beaches, lakes and villages all change in the rain. Encourage splashing in puddles and games of poo sticks off bridges. By making the rain a feature of your games it becomes a fun thing rather than an annoyance.
8. Plan a rainy-day bag
Camping is all about travelling light, no matter whether you're pitching a tent or enjoying a fully furnished mobile home. However, it would be foolish to leave home without a rainy-day bag. This can be your survival kit for days when you're stuck indoors. Depending on the kids' ages include colouring books, paper, pens, puzzle books and card games. A favourite family board game is always a winner but avoid one with lots of little pieces which may get lost. 
9. Bring a laptop, for emergencies only!
As a last resort a fully charged portable DVD player or laptop can be used for movie time. Camping allows kids to escape the technology that increasingly dominates their lives, so only fall back on this one as a last resort.
10. Try swimming in the rain
Swimming in the rain is a wonderful experience – find an outdoor pool and give it a try!
You can't predict the weather for your next camping trip, but you can adopt the Scout's motto and 'be prepared'. Rain doesn't mean your holiday is a wash-out.
Do be sensible and stay safe though and avoid camping in storm force winds!
We'd love to hear your top rainy camping tips!