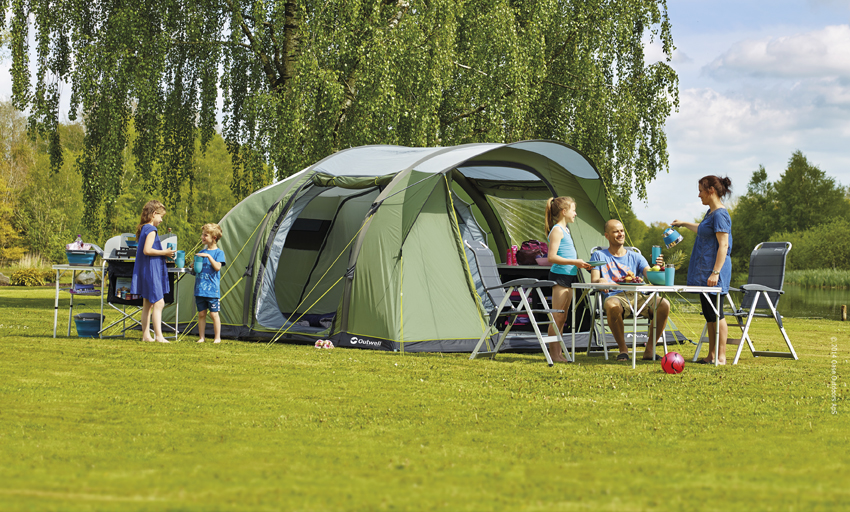 Family camping is lots of fun! And children who camp outdoors at least once a year will go on to do better at school, as well as being healthier and happier, according to their parents. This is the finding of a research study carried out by the Institute of Education at Plymouth University and the Camping and Caravanning Club.
We've got a fantastic range of family tents ranging from compact three-man tents, standing-height tents up to the largest tents we sell which can sleep over eight people. We stock a selection of tents from Coleman, Dometic, Kampa, Outwell, Outdoor Revolution, Quest, Vango and Zempire. 
Roger and Julie Wickham from Devon Outdoor and The Camping & Kite Centre have been camping with the family for over twenty years so they know all about the challenge of holidaying with kids of all ages! Here they share their top 10 tips for camping with the family…
Tip 1: Keep it close…
One of the very best tips for family trips is to camp near to home. For short weekend breaks you will be more willing to camp more often if there is not a long drive before or after each trip. We're spoilt in North Devon and in Monmouthshire for some fantastic campsites close to our stores, so why go anywhere else!
Tip 2: Get an inflatable tent…
Air tents are an innovative design that means you don't need to use tent poles. The ability to have a four man tent up in seconds means you don't need to hesitate to go away even if only for one night.
Tip 3: Double up…
It may sound expensive but having kitchen utensils just for camping (such as tin openers and graters) is so much easier than having the raid the kitchen drawers before each camping trip. And double up on your toiletries otherwise your toothpaste will be with the other half when you need it!
Tip 4: Plan your meals…
Work out a basic camping menu with food that is easily stored (tins etc) between trips. Pre-cook and freeze a few camping friendly meals such as spag bol or a chilli – they also be an ice pack in your coolbox.
Tip 5: Get some sensible storage…
Buy a selection of plastic crates or boxes – ideally with lids on, that you can store your camping items in. It makes packing easier and quicker and means you can prepack in the rain if you have to!
Tip 6: Pack lightly…
The less you pack the less time it will take. Sounds obvious but it's very easy to over pack for a camping trip especially with regards to clothing. Just remember clothes can be layered, grime is part of the fun of camping and most sites have laundry facilities on site if things get really dirty. Do remember to take some footwear for wet conditions though – wellies and crocs are great for dewy grass.
Tip 7: Camp with friends…
Share jobs and responsibilities onsite but it's also a great idea to take it in turns to plan and organise your camping trips – meaning all you have to do is pack the car and turn up, unless it's your turn of course! And playmates = happier kids!
Tip 8: Keep the kids entertained…
Pack a bag of toys suitable for camping that the kids won't miss at home – such as cards, drawing and outdoor toys. Squeezing in a portable DVD player that can be used in the car or on rainy days when the kids are bored will also be a lifesaver.
Tip 9: Stay warm and dry…
Everyone loves camping in the sunny summer weather but be prepared with extra layers for everyone. Avoid sleeping bags that are too cheap or too thin.On a chilly night put a hot water bottle in to warm them up before bedtime and you'll stay warm all night (remove before children get in to avoid overheating).
Tip 10: Clean as you go…
Take a dustpan and brush. They'll keep leaves, dirt and crumbs (and creepy crawlies!) at bay.
For more advice or camping equipment visit Devon Outdoor on the lower landscaping level at St John's Garden Centre in Ashford, near Barnstaple
or The Camping & Kite Centre at Raglan Garden Centre near Abergavenny.