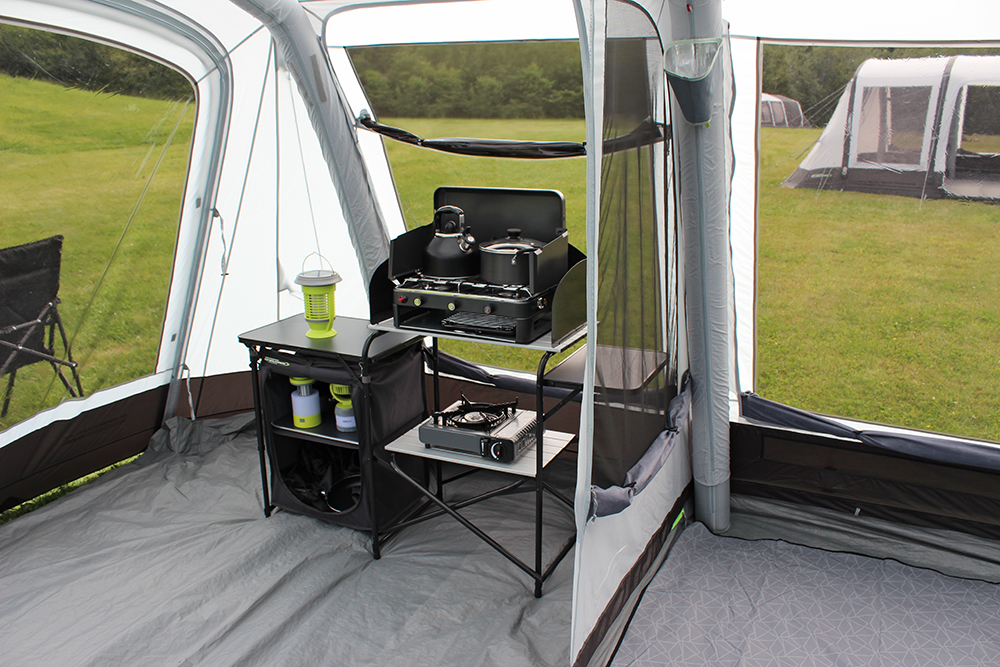 Setting up a camp kitchen well means a safe space for you to cook, sit and eat with the family at the campsite.
Your cooking area can be as simple or as elaborate as you want it to be but it's really important to make sure that your larder is secure from wildlife as loose food will attract unwelcome guests. Plastic or metal food storage boxes are best (as opposed to cardboard packaging) as they are more practical and durable.
The PLS Collapsible Storage Box is ideal as its compact when not in use but creates a great space for food when opened up.
For keeping food and drink fresh there are a number of options available, ranging from coolbags, passive and electric coolboxes and camping fridges. Our guide here explains them all so you can decide what is the best option for you.
Our range of kitchen stands all offer plenty of work surfaces that you can use for your camping stove as well as storage space for holding food and cooking equipment. Some even have basins that you can use to prepare food or do the washing up.
Decide how much space you think you will need when choosing your kitchen stand.
The Kampa Major Field Kitchen is a compact unit with a large worktop that will fit the most popular camping stoves (up to 60 cm wide). It's very quick and easy to set up and dismantle and comes with rubbish bin basket, a useful lower shelf, plus there's a windshield available as an optional extra.
The Outdoor Revolution Messina Multi Camp Kitchen Duo is a large kitchen stand with a dual-purpose aluminium top cooker stand with a lower shelf and a removable windshield. It has separate twin storage cupboards with zip-back doors, each of which has 2-level shelving with rigid shelf inserts. The sturdy easy erect construction simply folds down flat in seconds so it can be transported and stored compactly in its own storage carry bag.
The versatile Chieftain Field Kitchen from Kampa features a built-in sink, storage shelves, a waste bin and a large hanging larder. It offers everything you need to cook, prepare and store whilst camping, folding flat for easy transportation and storage in the included strong carry bag.
Your dining area can be inside or outside – dependant on the weather! Many of our tents have a large front canopy that give you the option to dine outdoors but stay dry if the weather is inclement.
The Coleman Weathermaster range of air tents feature an integrated front canopy that can be enclosed to offer a sheltered area from the elements or completely rolled back to give you an open-fronted area.
The Outdoor Revolution Airedale 6S Tent features double-width patio style doors at the front which can be fully rolled back to create an open-fronted area.
The Easy Camp Palmdale 600 is a great value-for-money family tent with a deep front canopy, to offer extra space and shelter with a D-shaped door for easy access.
To create your dining area, we offer a wide range of lightweight folding camping tables and chairs in various sizes.
The Kampa Element Waterproof Table is a robust waterproof table which means water won't ruin the tabletop and it is easy to dry. It has adjustable legs which means you can easily level the table on uneven ground.
The Coleman Packaway Table for 4 is a complete table and bench set that comfortably seats four people. The two double bench seats are topped with padded bench covers which are removable for washing.
Lightweight, unbreakable crockery and tableware is really useful when camping and much easier than packing the home china and cutlery.
Our tableware range includes a selection of melamine, plastic and enamel plates and bowls. The Kampa Melamine Sets are one of our most popular sellers in store thanks to their look and feel.
Water is a key element in cooking and a smaller water carrier with a tap is handy for your camp kitchen.
Our range of Kitchenware is all designed specifically for use at the campsite, in the motorhome or in the caravan. Whether you need a washing-up bowl or utensils to use around your kitchen area, you'll find something you need here. We also have a wide selection of collapsible equipment to help you save space when it is at a premium.
You can see a range of our camping accessories including everything on your camping kitchen checklist, on display in our stores during the season. Please contact us first if you are looking for a specific item as our stock varies.