Raglan awning event at The Camping & Kite Centre – 8th & 9th February 2020
Head to our Raglan awning event and save yourself a trip to the NEC because we are pitching a selection of our caravan and motorhome awnings for a special pre-season awning event on Saturday 8th & Sunday 9th February.
Our Raglan awning event will have erected awnings on display from leading brands including Vango, Outdoor Revolution and Kampa.
Be amongst the first to see the brand new Vango Tolga and Magra Driveaway awnings
Check out the Movelite T1 and T2 from Outdoor Revolution
Take a look around the Kampa Dometic Rally Air Pro 260 and the Club Air All Season 390 caravan awning – both new for 2020
We have stock of inflatable and poled awnings and a range to fit anything from a VW style van to a large caravan
Seasonal and permanent pitching caravan awnings to order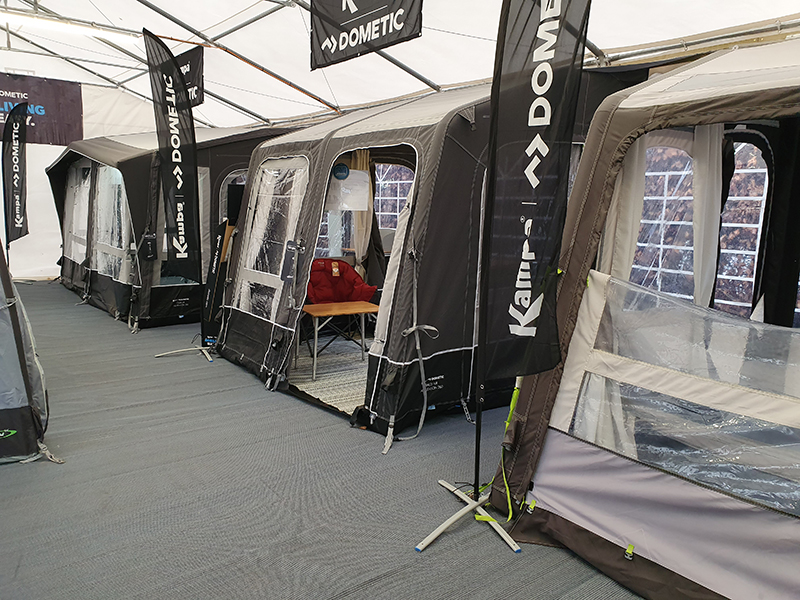 A caravan is the perfect way to enjoy holidays any time of year but when you arrive and pitch up, sometimes you need a bit more room. An awning is the perfect way to increase the amount of living space and create a real home away from home.
There are three common types of awning for caravans and motorhomes, the full awning, the porch awning and the canopy. 
A driveaway awning is simply an awning that can be quickly disconnected from your motorhome's awning connection point. You can leave your awning free-standing at your campsite while you 'drive away' in your motorhome or camper van, allowing you to explore the local sites and scenery. A 'driveaway awning' saves you having to pack away the awning each time you take a drive out! 
Come and enjoy our special Pre Season Awning Event weekend and speak to one of our experienced team and we will help you choose the right awning for your caravan, motorhome or camper van.