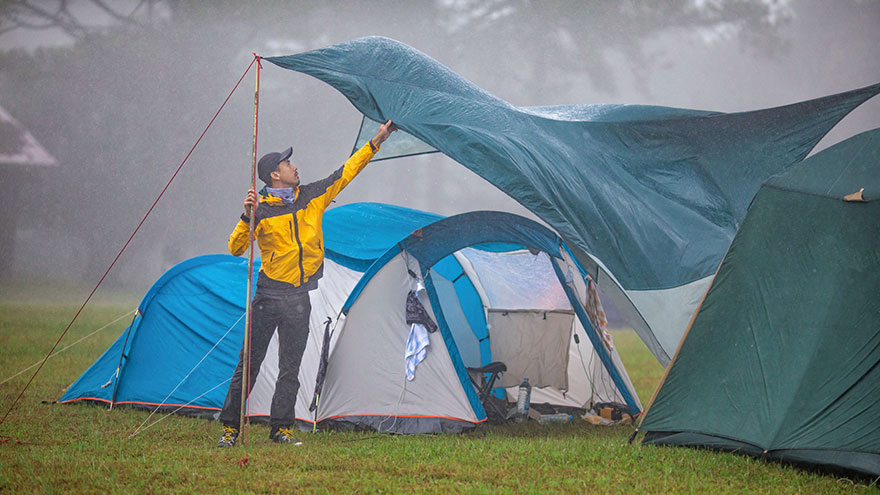 Many people are discovering the joy of camping this summer and also enjoying the delights of a UK holiday. Of course, with a British summer you can never quite trust the weather! Glorious sunshine one minute, and before you know it, the rain is coming down in buckets. So if you've invested in a tent then you need to make sure it stays waterproof!
A waterproof tent is a must! Some people routinely waterproof their tent after every few uses. Others may only do it once in the tents' lifetime.
How often you waterproof tent depends on how much you use it, how well you look after it, and what the weather is like when you use it.
It's a fairly easy process, but really well worth the effort so that you go on enjoying your waterproof tent for longer.
Here's our simple guide:
1. Clean your tent
Before you apply a waterproofing treatment, seam sealant or repair tape, you'll need to give your tent a good clean.
Set up your tent
Fill a bucket with warm water and add Nikwax Tech Wash or Nikwax Tent and Gear Solarwash – these products are detergent free and can be used safely on waterproof fabrics. You should never use standard detergent, as these will destroy any waterproofing.
Gently sponge down until it is clean, paying extra attention to the seams
DO NOT be tempted to put your tent in the washing machine!
2. Apply a tent waterproofing treatment
Ensure that the tent is clean. If you are using Nikwax Tent and Gear proof, you can apply this to a damp tent.
If using a product like Fabsil, it must go onto a dry fabric
Apply the treatment to the tent all over with a spray, brush or sponge
Wipe off any excess product with a damp cloth
Avoid getting any proofer on the windows as it can leave a residue
3. Seal the seams
Check inside for any seams that might be letting in water
Using a dry cloth, wipe the seam dry
Carefully remove any bits that are peeling off
Apply the seam sealer as per the instructions
Leave the tent to dry fully before packing it away