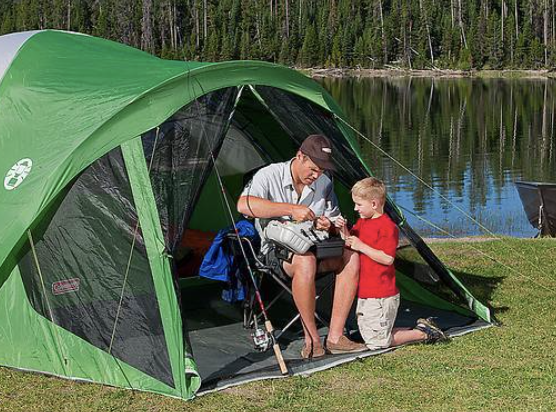 Coleman tents have come with the answer to restless nights when camping.
Camping with family and friends can mean sleepless nights and early mornings. Especially younger children who won't sleep until it's dark and then wake excitedly in the early hours as the sun comes up.
Well, we think there's finally an answer – introducing the new Blackout Bedroom technology from Coleman.
Often, you'll find a darkened fabric inside a tent to filter some light out of the bedroom area. Coleman have patented a system that incorporates a totally different type of fabric that not only totally blocks out 99% of light but also creates a temperature differential. This keeps the bedroom 5° cooler during the day and 1° warmer at night.
From the Coleman range, we're stocking the Fastpitch Air Valdes 4 and 6XL.
Also, the Mackenzie 4 and Mackenzie 6 tents
And both the Pinto Mountain 5 Plus and the Pinto Mountain 5 Plus XL.
Coleman Tents – Pinto Mountain Plus XL

Coleman Tents – Pinto Mountain 5 Plus
All these tents feature that all-important blackout technology.
For a limited time, we're giving away a FREE Large Coleman Event Shade (RRP £200) with the Mackenzie, Rocky Mountain and Pinto ranges. Great for creating a usable outdoor space – simply as an extra space for your own camping set up or a communal area for group camping, the Coleman Event Shade is also perfect for the garden.
And with free membership to the Camping and Caravanning Club membership with every Valdes and MacKenzie purchased, everyone's a winner!
How to claim your FREE 12 months Camping and Caravanning Club membership:
Once you have purchased your Mackenzie BlackOut Bedroom or FastPitch Air Valdes tent, just follow the 3 steps below.
Visit the Coleman UK website and head to the promotion page: www.coleman.eu/CCCpromo
Follow the simple instructions on the information form
Upload a copy of your receipt
Then you're done!
What if I'm already a Club member? No problem, if you are already a Camping & Caravanning Club member you can still request a pack, just keep it until your current membership runs out and then use it!
On successful completion of the form, your free membership pack will be with you within 14 days. Offer closes 31st December 2019, free membership packs will not be sent to any submissions made after this date. Offer is only valid at selected retailers, full terms and conditions are available on the Coleman UK website.