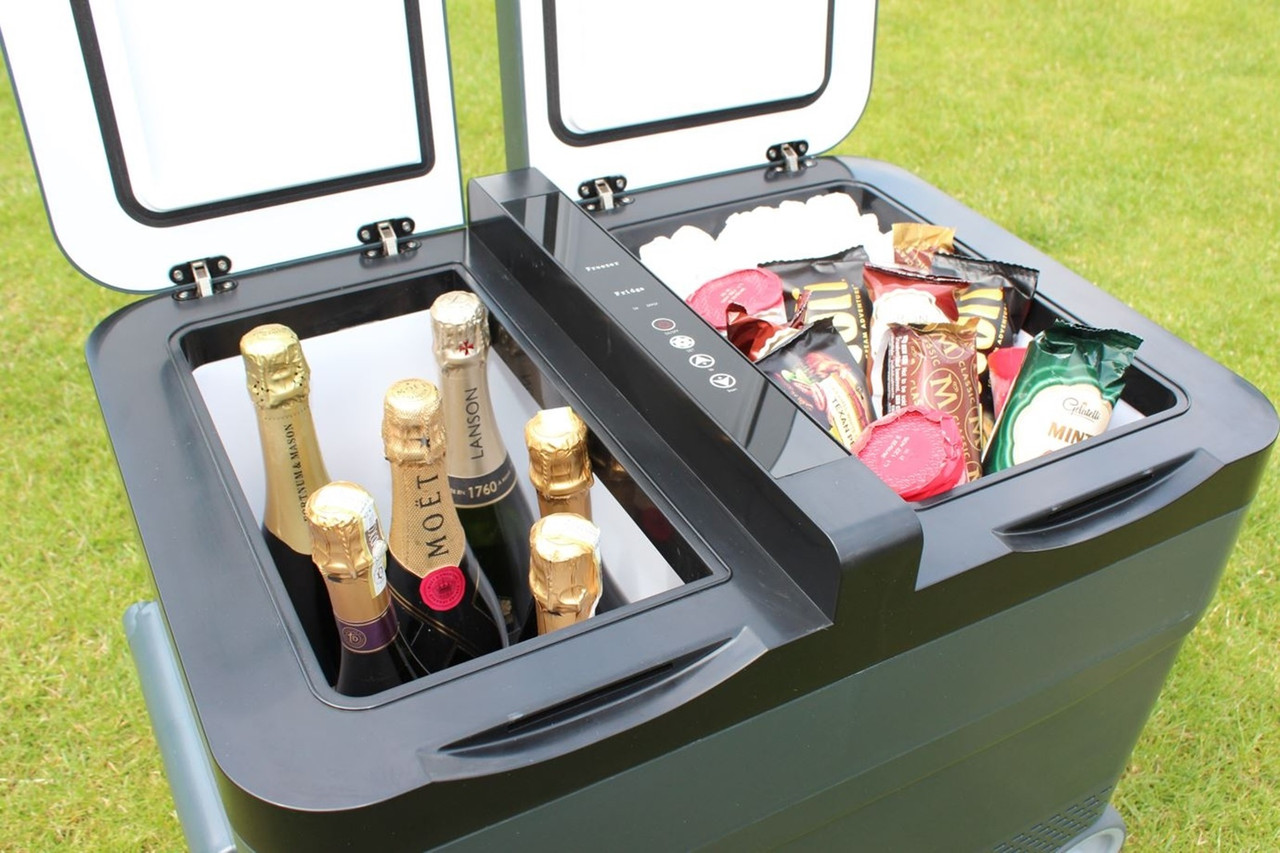 Cool boxes and camping fridges are essential pieces of your camping kit. Just like your home fridge, they will keep food and drinks cool and fresh.
Which type of product you choose depends on your budget, your style of camping and your set-up. To help you decide which works best for you, here's our guide to cool boxes and camping fridges.
Passive Cool Boxes
Passive cool boxes don't require any additional power. They usually feature foam insulation and require cooler packs or ice to keep the contents chilled.
The Outwell Fulmar 60L Cool Box keeps items frozen for up to 5 days, making it an essential piece of kit to take with you camping. The cool box works with ice or an Ice Block and has a drain valve to get rid of excess water. Strong handles make it easy to move around.
Powered Cool Box: Thermoelectric Cooling – Electric Cool Boxes & 12V Cool Boxes
Cool boxes that use thermoelectric technology are very popular and will run off a 12V battery, from a mains supply or both.
The Vango E-Pinnacle Electric Coolbox – 40L can be powered from either 230V or 12V.
It has a 40-litre capacity making it versatile for all your camping needs – it can cool up to 16°C below the ambient temperature so try to keep the cool box in a cooler part of your tent to keep the internal temperature lower. This ensures that your food and drink supplies are kept cool even on a warm day.
Also available as a 30-litre version
Compressor Cool Boxes
A compressor cool box uses an electric compressor to cool the box and again will run off a 12V battery, from a mains supply or both.
The Outdoor Revolution Eco Deep Extreme Compressor Cooler 35L is a large twin-compartmented compact compressor cooler & freezer.
It has a temperature range of 0C° to 10C° in the 25L cooler zone & -10C° to -20C° 10L freezer. It's ideal when you need to carry frozen items without having to take two separate coolers. It can be pre-cooled in the home before travel or on the campsite via a 230V adaptor with both UK and EU Plugs. Suitable for leisure automotive and camping applications.
Absorption Cooling – Three-Way Fridges
A 'Three-Way Fridge' can run off 12V, Mains electricity and also gas. If you're going to be somewhere without access to electricity, this is a good choice.
The Tristar 39L Three Way Fridge is the perfect place to keep your food and drinks cool on your next camping trip. It has a large capacity of 39 litres and the absorption system allows you to choose if you want to connect the cool box to 230V, 12V or gas. Furthermore, the cool box operates noiselessly, offering peace and quiet. The absorption system uses a coolant and absorption liquid that works as a compressor and offers convenient flexibility because it can operate on gas, but also as an electric cool box on 230V and in the car on 12V. It will cool up to 25⁰ C below ambient temperature.
This cool box is ideal to use when camping because it is noiseless and does not vibrate, it will not bother you when it is used in a tent or caravan. An absorption cool box should be used horizontally, but the built-in spirit level shows you exactly if your cool box is properly placed. The front plate of this cool box is made from stainless steel with integrated sturdy handles, giving it a stylish look.
---
NEW IN STORE
We've just added exciting products from TotalCool to our range!
Portable leisure products designed for life on the go including evaporative air coolers, freezer cold boxes, customisable and foldable solar panels and Premium Lithium-ion Power Banks.
Totalfreeze:
The new Totalfreeze range uses the latest cooling technology and features. Manufactured from the highest quality components, the Totalfreeze range is lightweight, robust and beautifully designed, with an exceptionally low current draw at only 30-40 watts.
Perfect for days at the beach, fishing trips or as an extra fridge-freezer in the caravan, motorhome, boat or wherever you see fit!
We're also stocking TotalCool power sources including the Totalpower 500 and the Totalsolar 100.
Totalpower:
The Totalpower 500 possesses the very latest in lightweight portable lithium power-inverter technology. You'll find the highest quality components and ergonomic design with features such as 1 x 12-volt socket, 4 x USB sockets, 1 x micro USB, 2 x inverter AC mains power sockets, wireless charging, fast charge, solar charging, an ultra-bright torch and a smart use digital LCD display.
Perfect for powering the Totalfreeze range (40-50 hours), the Totalcool 3000 cooling system (23-125 hours), laptops, mobile phones and even low power AC mains appliances such as TVs, power tools, hair straighteners and much more.
Totalsolar:
The Totalsolar 100 is a portable, customisable and foldable 100W solar panel designed for outdoor use. This model can be used to power and charge many devices including the Totalpower range.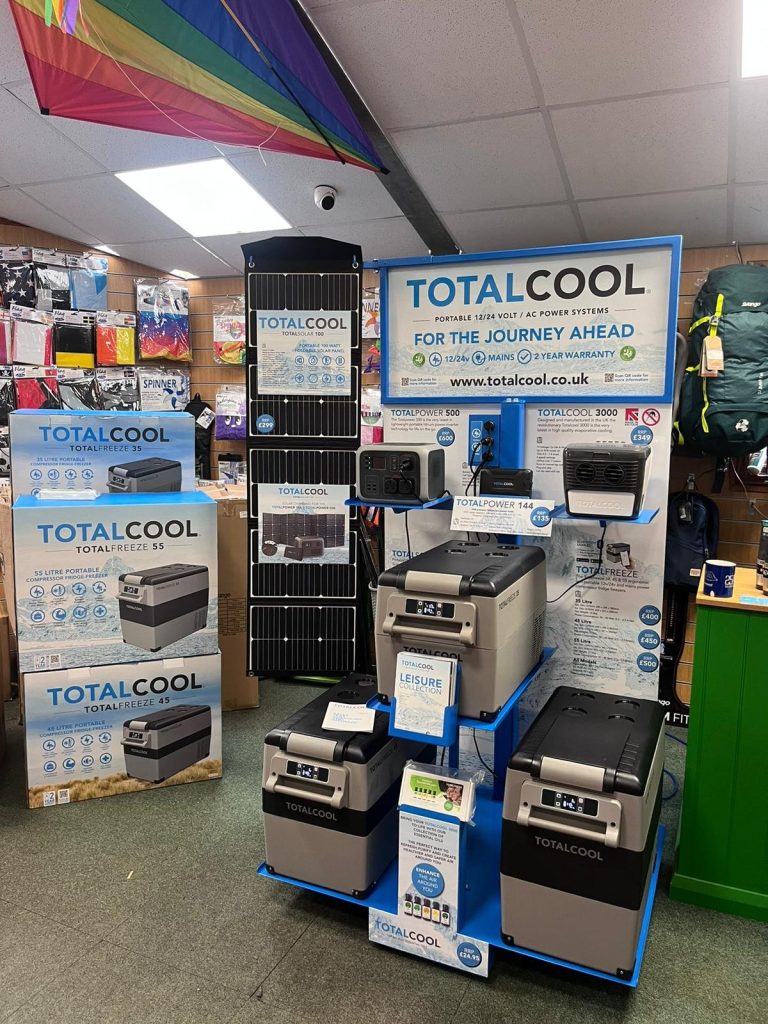 ---
We stock a variety of cool boxes, cool bags and camping fridges from Coleman, Outwell, Vango, Outdoor Revolution and Easy Camp. 
You'll find a range of different-sized passive cool boxes, which require you to pack with ice and electric cool boxes which work by lowering the temperature inside by a certain amount below the ambient outside temperature.
Our range of camping fridges are for more permanent use at the campsite. These camping fridges are more like your fridge at home than the standard cool boxes and offer a more constant temperature for your perishable goods.
---
Cool Box Top Tips
Make sure that everything you put in your cool box is already as cold as possible. It's a good idea to pre-chill or pre-freeze items where you can, to increase cooling duration.
Keep your cool box cold by minimising air space, in other words, pack it full! Filling your cool box up with food and drinks helps reduce the open space which houses warm air which will warm the contents more quickly. Don't hold back on your ice packs particularly if you have extra space to fill. 
If you haven't got enough ice packs, fill plastic bottles with water and freeze them.
Shut your cool box properly after using it. Try to limit the amount of time your cooler is open and put cool items back as soon as you're finished with them.