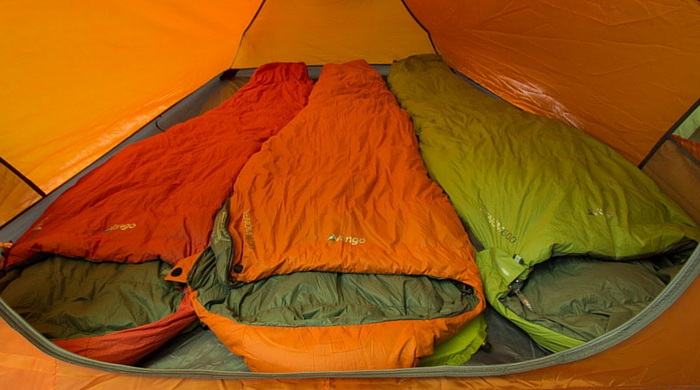 A sleeping bag is an essential piece of kit when camping but with so many different shapes, sizes and weights to choose from, how do you select the right one for you?
Sleeping bags vary in many ways including the size, season rating, comfort rating and filling type. They also come in different shapes:
In this guide, we'll take you through everything you'll need to consider when choosing a sleeping bag.
---
Square Sleeping Bags:
---
Squared at the top and bottom giving them a rectangular shape, square sleeping bags can usually be fully unzipped (turning into a duvet) and sometimes zipped together with another bag to make a double.
Pros:
Good if you have a little more room to spare.
Great for caravanning or indoor use.
Familiar home comforts and room to stretch out a bit
Cons:
Often not so warm as a mummy-shaped bag.
Tend to be bulkier and heavier.
Mummy Sleeping Bags:
---
This style of bag is ideal if you'll be carrying it in a rucksack. The tapered shape follows the natural contours of the body.
Pros:
Retains the most heat possible.
Removes excess bulk.
Cons:
Doesn't allow for a lot of movement so not great for stretching out.
---
When choosing a sleeping bag you'll need to think about what time of the year you'll be using it and how much you feel the cold. To help you with your choice, sleeping bags are rated by season and comfort too which gives you an idea of when in the year they are suitable for.
Sleeping Bag Season Ratings:
---
2 Season Sleeping Bags – Suitable for use from late spring until early autumn. These are typical camping sleeping bags for family use.
3 Season Sleeping Bags – These are suitable for use from early spring until late autumn. These bags are recommended for expeditions such as DofE or for the Scouts.
4 Season Sleeping Bags – These very thick bags are often down-insulated and can be used in winter when temperatures can drop below zero.
Sleeping Bag Comfort Ratings:
---
These are technical measurements, taken in a lab setting, using life size models of an average man and woman. They are clothed in underwear and a hat and heated to body temperature. Sensors are then used to determine the thermal insulation of the sleeping bag.
The difference between men's and women's body temperatures at night can be quite significant and everybody sleeps differently.
The comfort limit (T comf) – up to this temperature, the average woman would sleep in the bag without getting too cold.
The lower limit (T lim) – up to this temperature, the average man would sleep in the bag without getting too cold.
The extreme zone (T ext) – this is an almost unbearable temperature for a woman and the risk of hypothermia is very high.
So, for example the Robens Spire III Sleeping Bag has the following measurements:
T comf: -3°C
T lim: -9°C
T ext: -28°C
Pack Size and Weight:
---
If you're loading up the car and camping with the family, it doesn't really matter too much how big your sleeping bags are but if you're trekking or carrying your sleeping bag in your rucksack, it's worth noting the pack size (how small it packs down to) and the weight.
For thicker bags, a compression sack can reduce the volume and down sleeping bags are great for compressibility.
Down Sleeping Bags:
---
In terms of warmth to weight, a down sleeping bag is worth considering as they are prized for being light, easy to compress, long-lasting and breathable. It's the insulation of choice in cold, dry conditions, or whenever reducing weight and saving space are top priorities
Pros:
Deliver impressive warmth in a low bulk, lightweight pack size.
Best for winter expeditions.
Cons:
Need to be maintained and cared for.
Lose their insulating properties when they are wet.
Are more expensive than synthetic bags.
Down sleeping bags will have a ratio i.e., 90/10 for 90% down plume feathers and 10% non-down filling.
Synthetic Sleeping Bags:
---
Sleeping bags with synthetic insulation are the most common types and work in the same way by trapping as much warm air as possible. They also have the same temperature ratings as those with down filling.
Pros:
Not as expensive as down
Can hold up to 50% of their insulation properties when wet.
Cons:
Tend to weigh more and have a larger pack size.
Sleeping Bag Zips:
---
Some sleeping bags have a left-hand or right-hand zip. This might seem like a minor detail but can make things awkward.
Remember: Left-Hand Zip if you're right-handed. Right-Hand Zip if you're Left-Handed.
Kids Sleeping Bags:
---
Excess space in a sleeping bag will prevent you from being as warm as possible so our range of kids sleeping bags are shorter and narrower to keep them insulated.
Sleeping Bag Liners:
---
A liner is a useful addition and can extend the life of your sleeping bag as it won't need to be washed so often. A liner can also help to keep you warmer or be used on its own if it's very hot.
Pillows:
---
It might seem like a luxury, but a good pillow can improve your sleep when you're camping and we offer a small range of camping pillows that are designed to pack small when not in use.
For help and advice on choosing a sleeping bag for you and your family, please speak to one of our experienced team who will be happy to help you make your choice.