July is here and summer holidays are on the horizon. After a long few months of lockdown we're longing to get away. But we're still in the midst of a pandemic, so what about camping and COVID-19?
Well, campsites and caravan parks in England are due to open on 4th July, Scotland on the 15th July and we're still waiting for confirmation on Wales. So, our advice is to get your tent and gear ready and start planning your summer 2020 UK break!
Here you'll find some helpful information about camping and Covid this summer – what we think you can expect and how you'll be able to stay safe.
Things change quickly at the moment, so we advise you to speak to the campsite operators or the local Tourist Information Centre for local advice.
---
Q. When are campsites opening?
The government have allowed campsites to open from Saturday 4th July in England and from the 15th July in Scotland. It looks like lots of sites are aiming for these dates.
Something to look forward to at last!
---
Q. Should I book my camping holiday now?
Yes, we think so. Lots of campsites and caravan parks are open for bookings and word is, they're getting booked up. Reduced capacity means less availability, so our advice is to book early.
Check the cancellation/changes policy in case the guidance changes over the next few weeks.
Check that your camping gear is in tip top shape and shop our range of tents and camping equipment to make sure you've got everything you need!
---
Q. What can I do to socially distance on the campsite?
For camping and Covid, it's really important to maintain that 2 metre distance whenever you can and luckily, it's pretty easy to do this when camping. All the evidence is that transmission is greatly reduced outdoors so as long as you maintain social distancing, the risk of infection is low.
We've heard that campsites will be reducing the capacity of visitors and spreading pitches further apart.
Floor markings have become the norm and campsites will be no different – expect to see these reminders around the site.
Contactless check-ins are also very likely.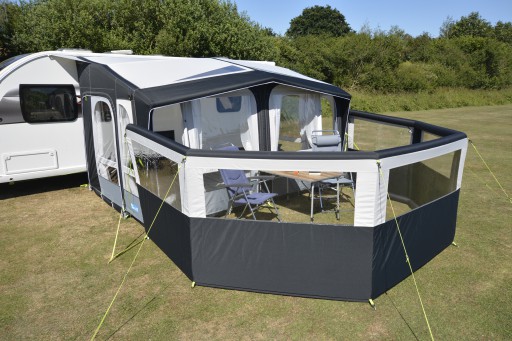 Even before the pandemic, lots of campers use windbreaks to set up a boundary around their pitch to keep the area nice and private and enclosed. With social distancing windbreaks really come into their own!
---
Q. Will we be able to use the showers and toilets on the campsite?
As far as we can tell, the government haven't placed restrictions on campsites with shared toilet and showering facilities. All that we know is that they need to be clean and 'COVID secure'.
Lots of the campsites in our local areas are putting in additional cleaning regimes including regular deep cleans, staggered use times and limiting the number of people allowed in at any one time.
However, some aren't opening their toilet and shower facilities and are only taking bookings from visitors who can be self-sufficient.  This may mean taking your own toilet and washbasin or shower.  Thankfully all these things are easily done!
---
Q. Will other facilities on the campsite be available?
Part of the government's plan to ease lockdown includes allowing bars and restaurants to open from 4th July. So, we assume that many campsites will be opening their catering outlets, although this is likely to be takeaway only.
For that reason, make sure you have a good size table you can all sit at – somewhere to eat the fish and chips.  And if you don't want to eat chips all week, you may want to ensure you have a decent stove!  Cooking outside is great fun, and this may be a great opportunity to expand your repertoire – and not just cook the usual sausages and burgers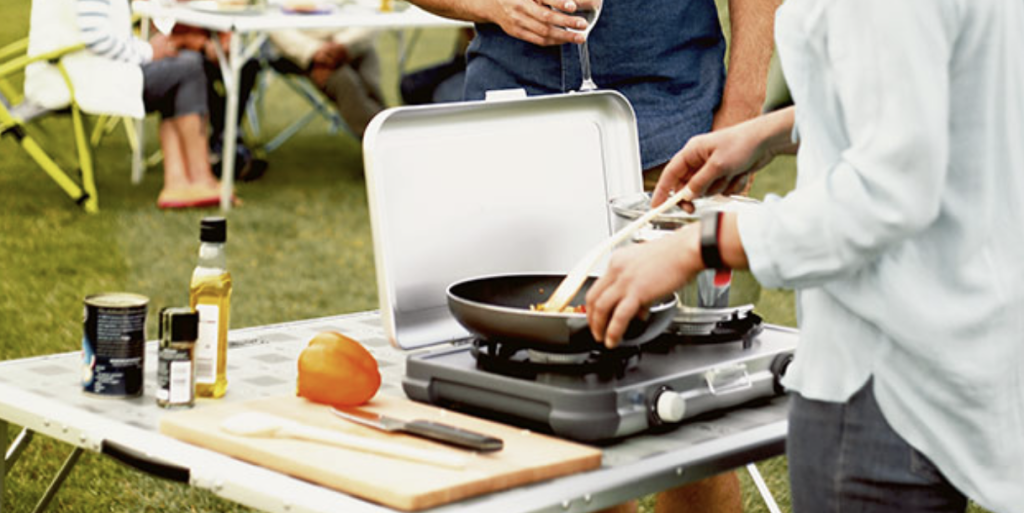 It's unclear at the moment whether swimming pools and play areas will be open yet. Our advice is to contact your campsite and ask what their plans are.
---
We hope you have a fantastic camping holiday this summer – if there's anything you need, please call in for a chat with one of our experienced team!